COLLABORATORS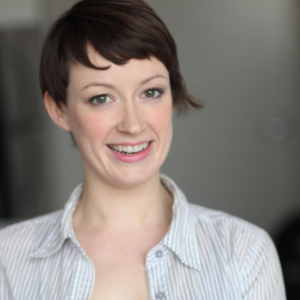 Annie Wilson is a Philadelphia and body-based artist who is pursuing new modes of performance. She premiered an evening-length piece entitled Lovertits in September 2014. In April 2014, in collaboration with fidget and Mascher Space Coop, she produced and curated The Remix Festival. Some artists she has recently worked with include Lucinda Childs, Applied Mechanics, Carbon Dance Theater, fidget, New Paradise Laboratories. She is the Development Coordinator for Mascher Space Cooperative and writes for Thinking Dance.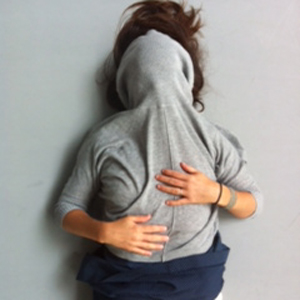 Christy Lee received her BFA in Dance from Temple University. She was co-founder of Moxie Dance Collective and a company member of Headlong Dance Theater, Karen Bamonte Dance Works, and Group Motion. She has collaborated with many other dance companies and independent artists in Philladelphia. Christy has also choreographed for theater at Yale University and the Yale Cabaret. She is a massage practitioner, real estate agent, dance instructor and mother to Ione. Christy is currently brainstorming with her husband Matt Saunders about their upcoming project.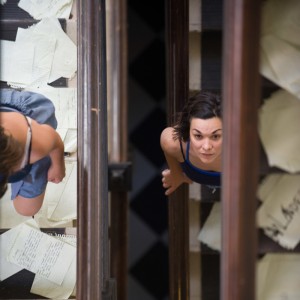 Christina Zani is a dance artist living in Philadelphia. She currently performs in the work of Nichole Canuso, Headlong Dance Theater, Meg Foley/Moving Parts. In addition she has worked with Tania Isaac, Subcircle, White Oak Dance Project, Artichoke Dance, Anita Cheng, Devynn Emory and Jaamil Kosoko among others. She loves to make small works that travel light, and has shown her own choreography in Philadelphia (Nexus, Painted Bride, CEC, Mascher Space Co-op), New York (Movement Research at DTW, The Far Space, AUNTS, TIXE), New Haven (Festival of Arts and Ideas), and Florida (Atlantic Center For The Arts). Important influences (outside of those amazing folks she currently works for) include Douglas Dunn, Lisa Kraus, Tere O'Connor, Jeanne Liotta (filmmaker) and her arts community in Philly. Christina recently completed choreography for Pig Iron Theatre's acclaimed Welcome to Yuba City, and is writing this from NYC where she is on a self-directed residency with the support of the Independence Foundation.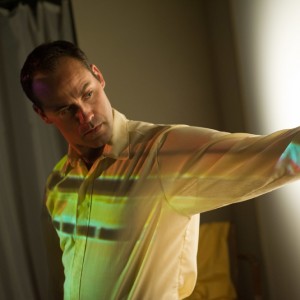 Dito Van Reigersberg is a founding member of the Pig Iron Theatre Company, and has performed in almost all of Pig Iron's 21 original creations to date, including the OBIE-Award-winning Hell Meets Henry Halfway. With Pig Iron he has toured to Brazil, Sweden, Romania, UK, Germany, Peru, Poland, Ireland, Lithuania, the Ukraine and Italy. He has been honored with two Barrymores (Best Choreography and Best Ensemble in a Musical), a Total Theatre Award for his one-man show Poet in New York, and was named a Pew Fellow in Performance Art in 2002 with Dan Rothenberg and Quinn Bauriedel. He has also performed with Nichole Canuso Dance Company, The ZAP! Dance Series in NYC, MyKindaPony, Headlong Dance Theater, Arden Theatre Company, Azuka Theatre Company, and The Lantern Theatre. He studied at the Neighborhood Playhouse and the Martha Graham School of Contemporary Dance, and is a graduate of Swarthmore College. For the past several years he has made waves In Philadelphia with his drag alter-ego, Miss Martha Graham-Cracker, and her monthly cabaret series at L'Etage.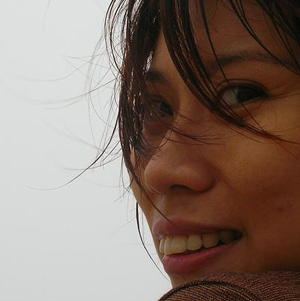 Eun Jung Choi, featured as one of Dance Magazine's 25 to Watch in 2012, is a movement artist/choreographer who has been working professionally for the past 20 years in the United States, Mexico, and Korea. Between 1996 and 2009, she worked with Sean Curran Co., Limon Dance Co., Allyson Green Dance, Risa Jaroslow and Dancers and other independent choreograpbers in New York City while creating her own work and being presenting multiple times at Dance Space Project and other venues. Since 2008, she has been Artistic Co-Director of Da·Da·Dance Project, a duet repertory dance theater and performed works created by Melanie Stewart, Gerald Casel, Erick Montes, Luke Gutgsell, Helena Franzén (Sweden) and two artistic directors: Guillermo Ortega Tanus and herself. She has taught at the NC Governor's School, North Carolina School of the Arts, the Center of Choreographic Investigation, Mexico, Movimiento Escénico, La Cantera, Temple University, Bryn Mawr College, Rowan University and many more. In addition to her career in dance, Eun Jung is an interdisciplinary video/interactive installation artist and graphic designer. Her video works have been presented at various theaters, galleries and commercial venues/parties in both Mexico and the United States. She has been working with Nichole Canuso Dance Company since 2012.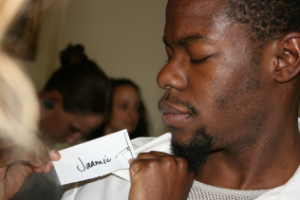 Jaamil Olawale Kosoko, poet, choreographer, and performance artist, is the artistic director of The KOSOKO PERFORMANCE GROUP, an interdisciplinary ensemble of dancers, musicians, visual design artists. Kosoko has performed in the choreographic works of various artists and companies including Terry Creach, Lisa Kraus, Kate Watson-Wallace, Pig Iron Theatre Company, Headlong Dance Theater, Leah Stein Dance Company, Emergent Improvisation Ensemble, and, Faustin Linyekula and Les Studios Kabako (The Democratic Republic of Congo, Africa). Kosoko has been published in The American Poetry Review, The Dunes Review, The Interlochen Review, Silo Literary and Visual Arts Magazine, among other presses. Currently, he reads, performs and guest lectures throughout the United States. His book Animal in Cyberspace is available for purchase online at www.KOSOKOPERFORMANCE.org.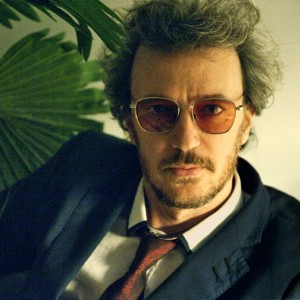 James Sugg is an actor, sound designer, composer and 10 year member of Pig Iron Theatre Company with whom he has created 10 original works. He has also worked with Seattle Rep, Actors Theater of Louisville, Folger Theater, The Wilma, The Arden Theater, Headlong Dance Theater, Rainpan 43 and Lucidity Suitcase Intercontinental amongst many others. His work has been recognized with two Obies (Performance Chekhov Lizardbrain, Special Citation Hell Meets Henry Halfway), four Barrymores for Outstanding Sound Design, and the F. Otto Haas Award for Emerging Theater Artist. He is the composer of the musicals A Murder, A Mystery And A Marriage (an adaptation by Aaron Posner of the short story by Mark Twain), James Joyce is Dead and So is Paris (Pig Iron Theatre Co.), The Sea (a one man electric chamber opera) and Cherry Bomb (with writer Jen Childs).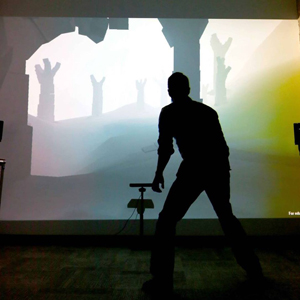 John Luna
, Texas native, lover of cool weather, and a University of the Arts alum, is currently a Graduate Fellow at The Ohio State University and working towards completing a Master of Fine Arts in Dance and Technology. John is a proud video game enthusiast and also enjoys baking, sewing, and reading sci-fi/fantasy novels.
ludicinclination.wordpress.com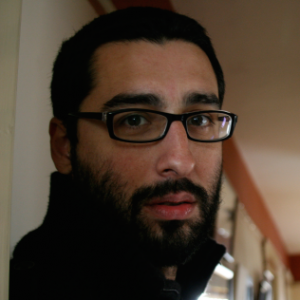 Lars Jan is a director, media artist, and founding artistic director of Early Morning Opera, a trans-disciplinary artlab based in Los Angeles. His original performance and film works have been seen at The Whitney Museum of American Art (NYC), Symphony Space (NYC), REDCAT (LA), the Venice Architectural Biennale, The Philadelphia Live Arts Festival, and The Edinburgh Fringe Festival. Not so long ago, he trained and performed with a Bunraku company in Kyoto for a year. During the summer of 2005, he taught as an artist-in-residence at Kabul University and developed a number of public art projects in Afghanistan with the support of a grant from the US State Department. More recently, he was a Fellow at Princeton University's Atelier program. Lars recently completed his MFA in Directing and Integrated Media at the California Institute of the Arts as a Jack Kent Cooke Scholar. Lars is the recipient of the 2008 Sherwood Award, granted by Center Theatre Group to an innovative theatre artist in Los Angeles. His new performance installation, [AB][AC][US] will be developed in residence at the Experimental Media and Performing Arts Center (Troy, NY) through October 2010.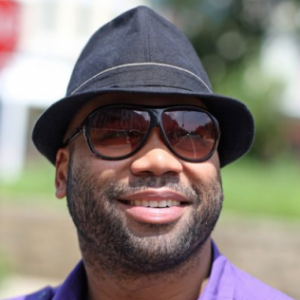 Les Rivera is Neil deGrasse Tyson's No. 177 fan, was an original member of Philadelphia hip hop dance company Rennie Harris Puremovement, makes music straight out of the future with his band 'el malito and the 33rd Century', and talks to his mom weekly on the phone. He misses hearing the coquis, who fill the nights in his native Puerto Rico with beautiful natural music. His favorite rum is Ron del Barrilito, his favorite beer is Tripel Karmeliet, and his favorite food is tostones. When his girlfriend falls asleep at night Les stays up searching for videos on youtube about science, the universe, and Radiohead or he'll go on Netflix and watch WWII documentaries (which his girlfriend calls his 'boring side'). Les kisses his stray cats Meanie and Lil' Mama at least 5 times a day. Palabra!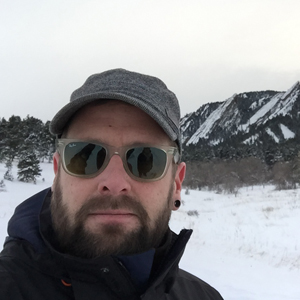 Mark O'Maley
is an instigator of space, bodies, and ideas who wears his heart on his sleeve and the sky on his arm while working in lighting design, scenic design, curation, and installation art, and
has a fascination with how people use and enjoy space. His NCDC credits include
13 Heads & 7 tails
,
Inner State Thirteen
,
Fail Better & Other Stories
, and
As The Eyes Of The Seahorse
. His credits include off-Broadway in New York City, London's West End, region theater & dance companies throughout the U.S. and festivals in South America and Europe. Recent credits include lighting Rennie's Harris'
Beautiful Human Lies
in Denver and Michelle Ellsworth's
Preparation for the Obsolescence of the Y Chromosome
at the Fusebox Festival in Austin. He served as the Director of Dance Production at the University of Colorado Boulder, and currently he is the production manager for the Vermont Governor's Institute on the Arts./three_fourths_last]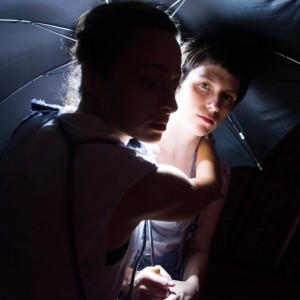 Meg Foley
: "I am a Philadelphia-based dance artist and director of Moving Parts. I intend Moving Parts to be a familial dance think tank with a group of steady collaborators exploring how art environments are made and trying to create elusive yet emotionally evocative performance experiences that straddle the fine line between focus and freedom. I am concerned with work that is both somatically oriented and precisely organized visually. And ultimately in my practice, I'm asking existential questions about the human experience of being, in relation to self and in relation to others. My work is grounded in the body, in the real, in the meaty stuff that I feel holds the stuff of being alive. I like things that make me giggle, give me goosebumps, make me nauseous, or make me cry.  I've danced with Nichole Canuso Dance Company since 2006 for which I feel very blessed and from which I have learned so much and experienced such joy. Seriously. In addition to dancing for NCDC, I currently work with Lisa Kraus and was a member of Beast Productions and collaborated with Devynn Emory from 2005-2009. I was educated and influenced by the good people at Scripps College and Laban Centre London."
www.movingpartsdance.org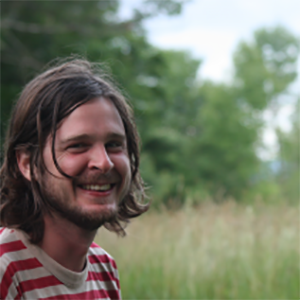 Michael Kiley 
is a Philadelphia based composer, sound designer, performer and educator working in dance, theatre and public installation. Michael creates his own work under the moniker of The Mural and The Mint (TM&TM). In 2010, TM&TM created 
As the Eyes of the Seahorse
, an interdisciplinary performance of dance and live music which premiered at HERE Arts Center. 2013 marked the release of 
The Empty Air 
and 
Animina
, two soundwalk pieces as iPhone application which use GPS to determine what the listener hears depending on their location within Rittenhouse Square and The Race Street Pier, respectively. Michael also released 
Kuerner Sounds
 in 2013, a commission from The Brandywine River Museum to be heard during a tour of The Kuerner Farm, which inspired painter Andrew Wyeth. In 2014, The American Composers Forum commissioned him to write 
With Happiness For You, World 
a piece for two voices, percussion and synthesizer, using the poetry of a teenage immigrant from Karen State.
He was also in residence at The Hacktory, where he learned to write computer code resulting in two gallery pieces, 
In(determinate) Duet 
and 
Elegy For A Home
. He teaches workshops in a voice/movement practice of his own design,
Personal Resonance, 
at The Headlong Performance Institute, Swarthmore College and various studios.
Currently, he is working with choreographer Faye Driscoll on her Thank You For Coming Trilogy, touring Part I: Attendance, while creating Part II: Play. Michael is also working as designer/vocal consultant with Chelsea Murphy and Magda San Millan on The Shame Symposium, to premiere at FringeArts in June 2016. He served as vocal consultant during the process of luciana achugar's Otro Teatro. Other collaborators include Lars Jan, Dan Rothenberg, Nichole Canuso Dance Company, The Arden Theatre and The Play Company, among others.
Michael has been supported by The Independence Foundation, The Pennsylvania Council on the Arts, The American Composers Forum-Philadelphia Chapter, The Hacktory, FringeArts (Live Arts Brewery Fellowship), Philadelphia Music Project (PCAH) and the Wyncote Foundation through The Painted Bride. His work has been presented at The Walker Art Center, ICA Boston, MCA Chicago, 3LD, Walkerspace, The Performing Garage, Festival d'Autumn, The Wexner Center, The Guthrie Theater, Clarice Smith Performing Arts Center, The Yard, Vermont Performance Lab, MANCC, and DanSpace Project.
.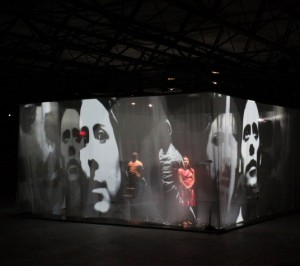 Pablo Molina Pablo N. Molina is a Los Angeles and New York City based video, lighting and sound artist. He specializes in emerging technologies and custom software development. Pablo creates sensor-based interactive media experiences for architectural installations, live performances and exhibitions. Most recently his video content was prominently featured in Linkin Park's Projekt Revolution and Nickelback's Dark Horse world concert tours. His work has also been seen in numerous exhibitions, theatrical, music, and dance performances and premiers at venues such as REDCAT, BAM, The Wexner Center, Beta Level, and the Katmandu International Theater Festival. He is a founding member of Mira Kingsley's dance theater company A Little Bit Above The Earth and an associate artist with MODE Studios in Seattle and Early Morning Opera in Los Angeles. Pablo teaches video design and media software programming at California Institute of the Arts.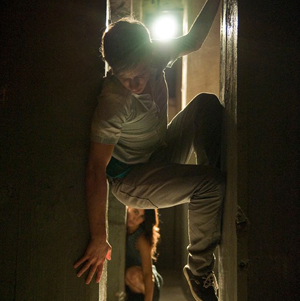 Scott McPheeters has worked as a freelance performer/choreographer/educator in Philadelphia for the past ten years. Most recently, he has performed with Philadelphia companies including Nichole Canuso Dance Company, Subcircle, Headlong Dance Theater, The Bearded Ladies Cabaret, Tori Lawrence + Co., and Enchantment Theatre Company. McPheeters has taught as adjunct faculty at Temple University, and as a guest artist at Drexel University, Swarthmore College, Dickinson College, Muhlenberg College, and University of the Arts. He has choreographed for various Philadelphia theater companies including the Arden Theater, The Bearded Ladies Cabaret, and Enchantment Theatre Company.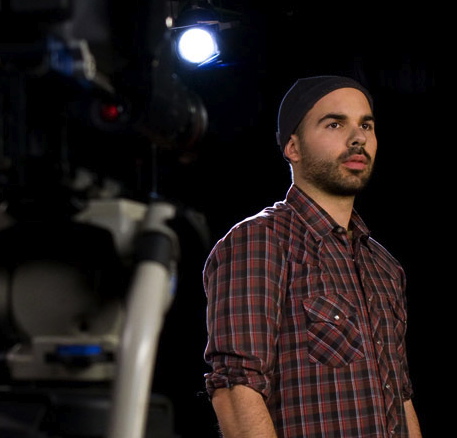 Troy Herion is a composer and filmmaker whose work unites contemporary music with visual arts through chamber and orchestral music, opera, theater, dance, and film. Compositions have been performed by leading ensembles such as American Composers Orchestra, So Percussion, Crash Ensemble, Nash Ensemble of London, and Brentano Quartet.  His most recent work of visual-music New York: A City Symphony, for film and orchestra, premiered in Carnegie Hall. His visual-music filmBaroque Suite was called "marvelous" by New Yorker critic Alex Ross, has been featured on MTV and screened at festivals including the Brooklyn Film Festival, The Wassaic Project, and The SONiC Festival. His music video The Bright Motion for pianist Michael Mizrahi of New Amsterdam Records was released to critical acclaim on the blogs of NPR Classical and The Rest is Noise. His film, The Dark City, a meditation on the 2012 Manhattan blackout was featured in The New York Times.  As composer and sound designer for theater, he has worked with Pig Iron Theatre, The Wilma Theater, The Arden Theatre, Azuka Theater, Swarthmore College, and Columbia University. He was nominated for three Barrymore Awards, including the F. Otto Haas Emerging Artist Award, and his sound design for Pig Iron Theatre's Love Unpunished was featured in the 2011 Prague Quadrennial.  Troy holds an MFA from Princeton University, where he is currently completing a joint PhD in Composition and Interdisciplinary Humanities (IHUM).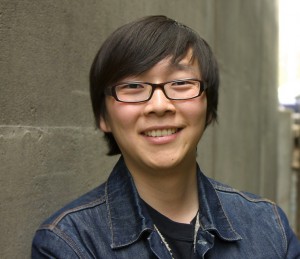 Yi Zhao
is a Brooklyn-based light­ing designer for theater, opera, dance, and music. Informed by a rigorous background in art photography and a passion for music, he often thinks of lighting design as three-dimensional composition: sculptural, pictorial, and musical at the same time; an all-encompassing vehicle for a communal event.  
www.yi-zhao.com